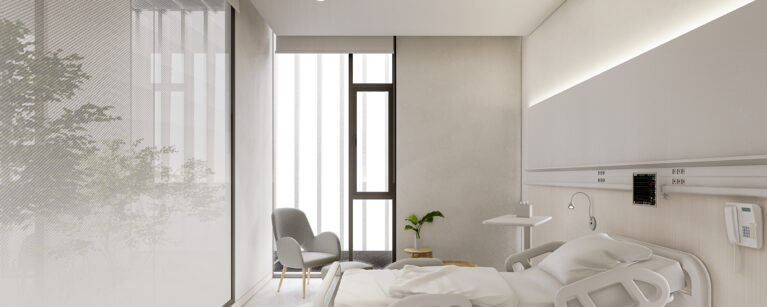 "Great forms, atmospheres & spaces"
"Alternative contemporary language"
"Inspiring architecture"
"Suggestive and calm interiors"
"Soft and sophisticated minimalism"
Uncomplicated architecture
for a more personal healthcare
Health sector facilities must provide a physical environment where the care that meets the expectations and demands of the public can be safely, efficiently and effectively delivered.
They require a high level of expertise, so this is why we have partnered with Mata & Asociados, an architectural practice consulting in this field.
Our joint portfolio allows us to draw on their sectoral knowledge in conceiving of the building's brief, layout adaptability and technical requirements, which we then combine with our vision of a space that promotes patient comfort through therapeutic design.
Whether we are planning a public hospital or private clinic, we work on the principle of evidence-based design to provide the exterior architecture, interior design and equipment integration that promotes wellbeing for patients, visitors and staff.
Start your project
Get a preliminary quote and professional advice
Unknown error, please try again
Explore our gallery
Our projects meet the needs of the people we work for. We design quality interiors and first-class buildings that support a sustainable and peaceful lifestyle.