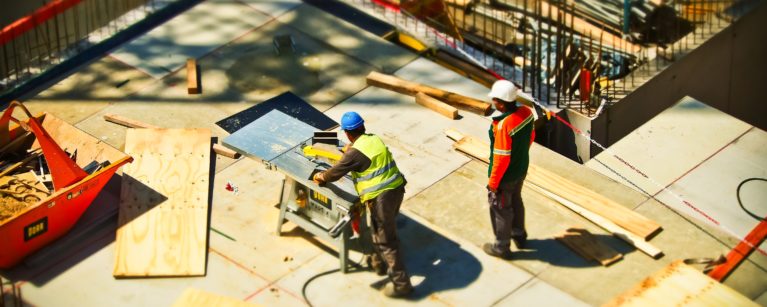 Landfills are filling up incessantly, and the construction sector is accountable for 40% of the waste. The waste generated in the life-cycle of a building accounts not only from the construction itself but more so on the phases of design, operation and demolition.
The green building movement is not only a trend but a necessary force of change. Rating systems like LEED offer certification to green buildings which meet the criteria.
From start to end-of-life of the building, architects have the most impact in leading a change. We do not take our responsibility in taking care of the environment lightly.
Modular Materials
During the design development phase, we identify the elements which can be standardised for repeatability. Structural systems, modular grids and panels can be designed and fabricated efficiently with zero waste in mind. Specify and optimise materials ready for easy installation and dismantling. Instead of using glue adhesives in bonding materials, we tend to choose mechanical fixings for reuse of components at the end of their useful life. We tend to work with manufacturers who advocate recyclable materials in packaging. Off-site construction is also advised to reduce errors and rework in cutting modular dimensions.
Digital Fabrication
BIM offers three-dimensional virtual coordination with the consultants involved and reduces construction blunders. The specified building products can be embedded with Life-Cycle Assessment (LCA) on the software's material information. We tend to employ digital construction processes when constructing parametric façade modules to lessen the waste from manual cutting and moulding. This method allows coordinating the dimensions on-site before fabrication so they can be adjusted accordingly for installation.
Natural and Local Materials
Sustainable materials in a local context require less transportation, storage and handling on site. Synthetic materials leave more carbon footprint from its tedious manufacturing process. Construction waste like scrap metals and reclaimed wood can be repurposed into eco-friendly building products.
Waste Recycling
Survey the site initially and look for reclaimed materials that can be newly integrated into the project. We aim to reduce the waste generated in construction and demolition by recycling, reusing and repurposing waste. In-situ waste management planning should be implemented to promote a circular economy. We do our best to specify materials with high recyclable content while still at the design phase.
Water Reduction
One of the strategies to control the water use is to plan a performance-driven wastewater management system to reduce the amount conveyed to the municipal water system. We recommend contractors to use a water recycling system on site to manage the wastewater, and we tend to design a segregated drainage system for black water, grey water and stormwater. Contaminated black water can be precluded through the use of composting or vermifilter toilets. Grey water comes from kitchen, sinks and washing machines. Through constructed infiltration swales, grey water and excess rain or stormwater can be redirected directly to an aquifer. Alternatively, they can also be collected and diverted to a cistern to irrigate the soft patches of the landscape.
We spearhead a collaborative process input on the life-cycle of our projects. We are committed to our principle of net-zero waste construction.