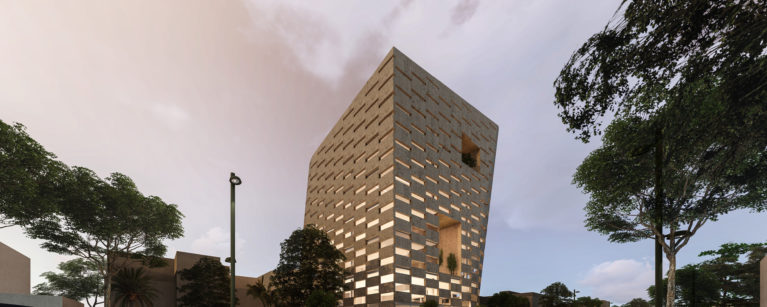 Parametric modelling (or parametric design) is the creation of a digital model based on a series of pre-programmed rules or algorithms known as 'parameters'. That is, the model or its elements are generated automatically by internal logical arguments instead of manually manipulated.
Normally, parametric rules create relationships between different design elements. In this way, a rule could be created to ensure that the walls should begin at the floor level and reach the bottom of the roof. If the height of the floor is subsequently changed to the ceiling, the walls will automatically adjust to fit. Other examples may include the height of the windows above the floor level, the relationship between the walls and a sloping roof, the relationship between the floor area and the size of the windows or the number of luminaires, etc.
The same algorithm can be used throughout a model, so if a particular element or rule is changed, it changes globally throughout the model. After all, the model is a representation of all the rules that the architect has defined.
The construction of models can be explicit. All aspects of the model are well defined and can be described, usually independently, without reference to other parts of the model. In a computer-aided model in which a building is represented explicitly. In this way, we can, for example, obtain the coordinates of any point of the building and, from this information, even create several different representations (such as planes and sections, representations, physical models), and even visualize the building as a whole. During the design process, when decisions about the building are made as the model is constructed, all aspects of the model are built, tested (by various methods) and modified continuously.
Architects, engineers, structural designers and other professionals involved in the process can benefit from this system and collaborate in the same process to build an integral model of their future building. The BIM model then functions as the planning tool for anyone involved in taking the project from the concept to its completion.
On the other hand, the ideal scenario is one in which you can have access to a global BIM model involving architects, engineers and construction professionals from multiple locations. This accessibility should be portable, making it easier to register and make adjustments to the model even from the construction site.
In the future, this trend of mobile accessibility will be essential. The architects will not stop designing from the office, in the same way, that the engineers will continue compiling crucial calculations from their offices. But BIM technology continues to be important beyond the development of the project, as it relates to maintenance and building updates.
This way of working is fully implemented in AQSO's design method, making it easier for our clients to understand the progress of the project on the go and from any device. Contact us to learn more about our working method.