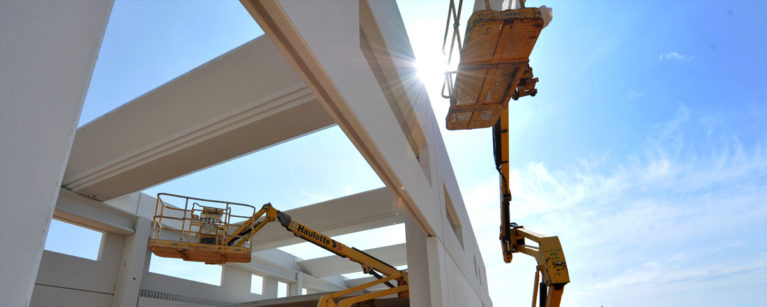 The construction works for this multifunctional building designed by AQSO have recently started with the assemblage of modular concrete elements to be part of the structure and façade.
The building is conceptualised as a neutral block to be used as industrial and commercial premises. The envelope with the ivory colour finish is cut out to open a series of windows that frame the landscape. The façade of the main entrance differs from the rest of the building, clad in a corten steel skin.
The chosen constructive system of prefabricated modules not only improves the quality and makes the arrangement of the building easier; it also speeds up the administrative procedures for getting the corresponding planning permission.
The walls are made of lightweight precast concrete while the beams are made of prestressed concrete. Having a total ground floor area of 375 sqm, this building is intended to be completed in only two weeks.
The building, located on the highest point of this village, overlooks the valley and becomes a minimal and discreet element within the flat landscape of this region.