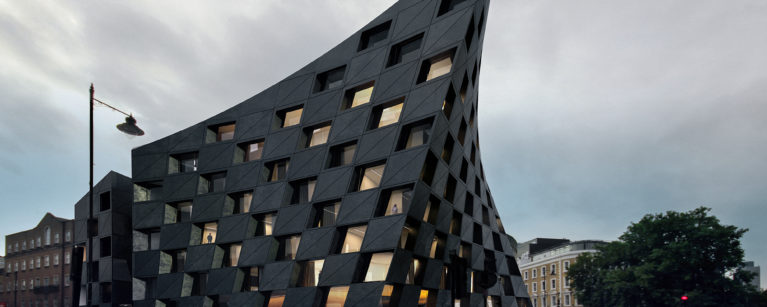 Long gone are the traditional boxy building forms. With advanced computer algorithms in place, what was once unattainable is now made possible. Complex geometrical building patterns such as curvatures or hyperbolic paraboloid shells are now becoming the norm.
We experiment with digital construction processes to bridge the gap between parametric design and fabrication, so we can provide resources to turn our concepts into bespoke reality.
Laser Cutting
Computer Numerical Control (CNC) dictates the automated response of machine tools from pre-programmed software. For parametric architecture, architects usually use Rhino design software with Grasshopper plug-in to program CNC. Costs can be predicted consistently if straightforward construction system is used in façade panels.
Most fabrication workshops employ the use of CNC techniques such as laser cutting or plasma cutting for extruded profiles and planar materials. These CNC techniques are the most accessible and economical as they only require minimal set-up with conventional machines.
Reusable Moulds
Other processes such as moulding and extruding are more expensive and labour-intensive. The geometric complexities in parametric architecture can be segmented through surface patches or panels. These single or double-curved modules serve as the exterior or interior skin of the building. They are usually made casting materials on moulds, so a separate mould is required for each panel. In fact, the mould fabrication is costlier than the panel cost itself; this is why an accurate parametric design can help to reuse moulds again and minimise production and manufacturing costs. This same mould will then be used to fabricate multiple similar panels.
3D Printing
Through diverse additive systems, 3D printing transforms a digital file into a solid three-dimensional physical object. The most common method consists of applying an additive layer stacked on top of each other like a horizontal cross-section until the whole element is printed. 3D printers can be used for rapid prototyping and manufacturing in any industry with no moulds required. In parametric design, 3D printers can generate façade panels which are assembled at a later point. 3D printing is still in its infancy though. While there are scale limits and constraints, 3D printing still poses a technological advancement that's hard to ignore for the AEC industry.
Robot Welding
Traditionally materials fused through heat and filler joint were welded manually. However, automation with robots has achieved extreme levels of efficiency in controlled industrial environments. Robot welding is the most productive approach when presented with a high rate of repetitive quality welding tasks.
Parametric architecture collaborates with robotic fabrication to optimise workflow and increase interoperability. This method conserves material and saves on direct labour costs. As joints of different pieces are welded, CNC techniques are implemented in robot welding to control its movement and optimize the process.
Most traditional construction methods fail to adapt to the new digital construction technologies. Parametric design opens the breakthrough for innovation and creativity. We are always up for a challenge.