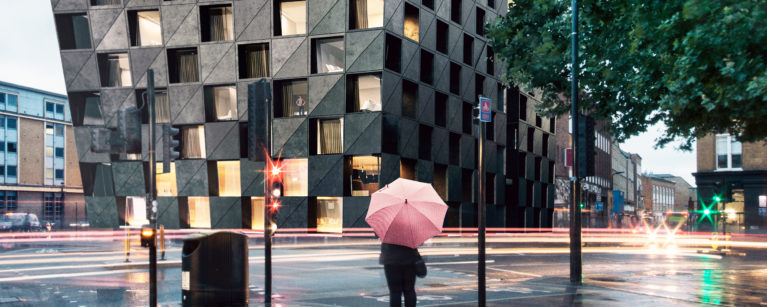 A new mixed-use building, which includes a hotel, cinema and retail space, could become the latest eye-catching landmark in London's most creative neighbourhood.
Architecture & design editor Charlotte Luxford interviews Luis Aguirre on the media and entertainment online magazine The Culture Trip.
The striking building is designed by Spanish-based architecture practice AQSO Arquitectos, which proposes to create The Shoreditch Hotel at the front, with a cinema and various shopping outlets at the back.
The twisted monolithic structure has been deliberately designed to be "iconic, but not monumental", according to AQSO. From the main intersection of Old Street and Great Eastern Street, the ship-like building looks fairly dramatic, but it morphs into a much subtler form in the adjacent streets. An internal courtyard – intended to be a public plaza – slices the hotel and the retail space into separate entities. Described by AQSO as both "discreet and enigmatic", the idea is to flood the central space with natural light and, at the same time, create a new thoroughfare for the city.
The front of the building takes a polite step back from the pedestrian area and the new cycling paths but has a pointed overhang jutting out over the fork of the junction. "We wanted the building to visually blend with the perspective but at the same time react to the pedestrian flow at ground level," architect Luis Aguirre told Culture Trip. The distinctive checkerboard facade is a practical solution for a complex layout, as well as a reflection of the area's varied historic, industrial and contemporary buildings. The design was developed as part of a research project for PPHE Hotel Group on London's urban fabric.
"Hoteliers have seen a new emerging pattern since the disruption of Airbnb – travellers are looking for experiences," Aguirre said. "We believe hotels have to combine design and functionality to engage with the urban environment, attract social interaction and become memorable. Our concept aims to capture – and be part of – the character of this creative area of London, which is probably the most provocative, experimental and dynamic."
Originally published on The Culture Trip