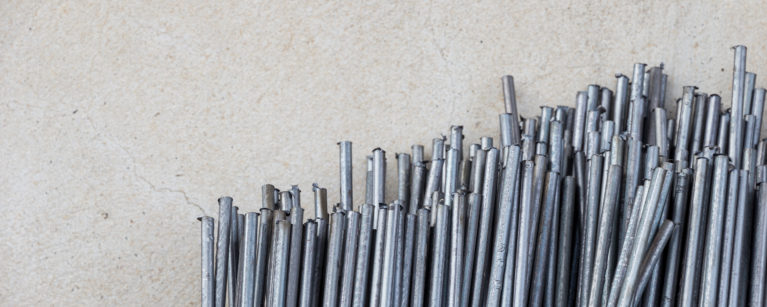 The structural framework is the spine of a building. Therefore, caution against the choice of material should be carefully exercised.
Concrete and steel, or reinforced concrete, delivers a rigid structural system when combined.
Concrete complements steel's deficiency through its compressive strength, while steel compensates for the concrete's low tensile strength.
Design possibilities
Concrete: Concrete is limitless on shapes and can be formed using prefabrication off-site or cast-in-place on-site. It offers more rentable spaces due to its lower floor-to-floor construction heights. A 20-cm thick floor already provides space for utilities to run. Its inherent properties deliver loud echoes for acoustics. Concrete can be partnered with an acoustic ceiling, but it will reduce floor height.
Steel: The high strength-to-weight ratio of steel offers flexibility. Maximum length and column-free spaces can be achieved through the long spans of steel. This lightweight structural system can build extensive floor-to-floor heights, but it typically accommodates more space since it is constructed using girder slab framing system. Steel can be easily modified by dismantling a structural member.
Cost and construction scheduling
Concrete: Concrete has a relatively stable price but requires maintenance and repairs throughout its lifecycle. Cast-in-place concrete includes labour-intensive process on-site which can accrue higher costs on quality control. In contrast, precast concrete can reduce build time and is useful for limited construction space surrounded by cranes and staging.
Steel: Steel reduces construction time and can be erected fast on-site. Its procurement, prefabrication and delivery can occur for up to 6 months. Despite its high lead time, steel enhances overall productivity. It can be readily modelled in BIM and assembled off-site in factories for quality control. This process results in reduced labour costs and lesser waste, making it a cost-effective option.
Safety
Concrete: Concrete has a high compressive strength which is in line with IBC codes and regulations among others. Skyscrapers with thick concrete utility core can offer protection from seismic loads. Concrete is intrinsically fire-resistant but is difficult to attach fireproofing with other materials in place.
Steel: Steel is ductile, stiff and has high tensile strength. It is naturally non-combustible, but when exposed to extreme heat it could melt. Therefore, fireproof materials like intumescent coatings should be added on prefabrication. Steel is sturdy against high wind loads. Its disaster-resiliency can be enhanced when it is design-engineered with a repetitive system and progressive collapse.
Environmental impact and availability
Concrete: Concrete has natural elements which make it readily available. It can be crushed and recycled, but restraint should be implemented on future mixtures due to the moisture content and material variability. The 40% down-cycled can be used for filling material on substructures and road construction. Waste materials like slag and ash can be blended in ready-mix concrete Ground-granulated blast-furnace slag (GGBS) and Pulverised Fuel Ash (PFA). Though a concrete facility has a big footprint, the concrete itself has high thermal inertia which is useful for night flushing.
Steel: Steel is 100% recyclable and can be reused initially with no compromise on structural integrity. Zero-waste construction of steel advises bolted connection rather than welded connections for easy dismantling. Scrap steel can then be efficiently segregated using magnets to render lesser carbon footprint.
Ask the experts
Our team of engineers and architects work together to determine the building's functional and structural requirements and discern the right system expertly on each project. Contact us to get help or advice.