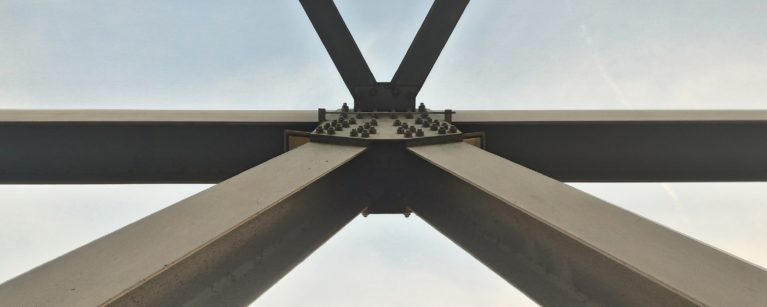 High-tech advancements in structural engineering give birth to the reality of intricate architectural designs. Building typologies now exceed what was once compromised because of traditional methods.
The advent of Information Age will continuously break ground for the optimisation of structural systems. As innovations surge, the potential for growth in the industry provides more opportunities.
We embrace structural challenges as part of our collaborative design process, playing smart with the materials to articulate designs that are both functional and strong. When a firm concept is required, we cultivate our creative juices to change the perception of the building visually, defying the gravity.
Cantilever
To the untrained eyes, cantilevers create an illusion of floating volume. But the rationalisation behind this structural innovation results from an accurate calculation of load factors. Anchored rigidly to a plate or wall, a projected fixed beam that can span up to 30-60 meters in mid-air, supported only at one end.
Tensile stresses elongate the fibres and make up the upper half portion of the beam while the bottom part consists of compressive stresses. The bending moment which inhibits the beam from rotating is also calculated along with the vertical shear force.
Steel Columns
High-rise skyscrapers wouldn't have been possible without this structural technique. Vertical steel columns and horizontal I-beams make up the skeleton frame of numerous high-rise buildings, where walls, floors and roof are attached to this rectangular grid or framing system. Most skyscrapers using this technique can employ non-load bearing curtain walls, which creates a sensation of lightness and weightlessness.
Structural Glass
When specifying the glazing itself, structural glass can be categorised to annealed, tempered or laminated. Laminated glass or safety glass is often the strongest as it contains an interlayer of polyvinyl butyral (PVB) resin. The structural glazing, with its intrinsic properties, is usually installed with structural façade systems such as mullions, glass fins and grid shells. Structural glass includes the calculated total loads of thermal, wind and impact loads in its performance criteria. The structural joint sealant should also be carefully specified to withstand and resist cohesive or adhesive failure.
Laminated Wood
Wood engineering technology has recently emerged and produced a vast range of modern materials. Cross-laminated timber (CLT) is composed of structural lumber boards stacked perpendicularly in an alternative manner. We utilise CLT on hybrid applications because of the excellent seismic, thermal and acoustic performance. Parallel strand lumber (PSL), or wood strands glued under pressure-adhesive, can be used for exposed or concealed massive columns. Glulam, or glued laminated timber, combines the trifecta of function, structural integrity and aesthetics into one. Contemporary churches or civic buildings often use glulam in their modern vaulted ceilings because of its stress-rated engineered wood.
We employed these groundbreaking structural methods extensively on our projects like Connecting Riads, Shoreditch Hotel and Folded Auditorium. We believe in an ingenious and forward-thinking architecture that strive for radical impact in our designs.