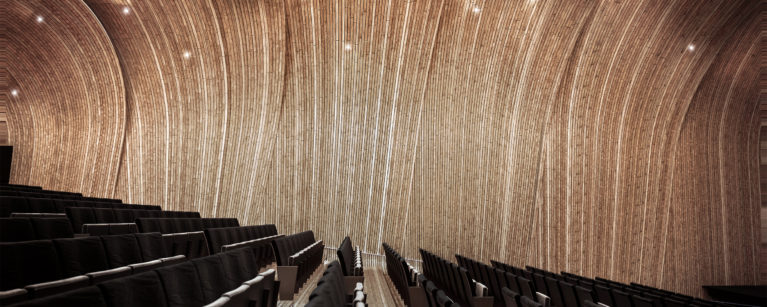 "Great forms, atmospheres & spaces"
"Alternative contemporary language"
"Inspiring architecture"
"Suggestive and calm interiors"
"Soft and sophisticated minimalism"
The home of creativity
and entertainment
A performing arts building can echo and shape a society's cultural expression. These essential civic facilities provide cultural exchange and opportunities for artistic expression.
Whether it's an auditorium, opera house, a cinema or theatre, these buildings provide fundamental spaces for performance and spectacle, so they need to be functional, flexible and impressive at the same time. We combine these requirements into our bespoke design approach to achieve a landmark building that is emblematic of a place, people and culture.
Working closely with consultants, we have learned how to navigate the technical requirements for these types of buildings. Our design process takes into account heating and cooling systems, lighting specifications, seating arrangements and acoustics while envisioning accessibility, security, comfort and backstage functionality to provide the best experience for the audience and performers.
Start your project
Get a preliminary quote and professional advice
Unknown error, please try again
Explore our gallery
Our projects meet the needs of the people we work for. We design quality interiors and first-class buildings that support a sustainable and peaceful lifestyle.