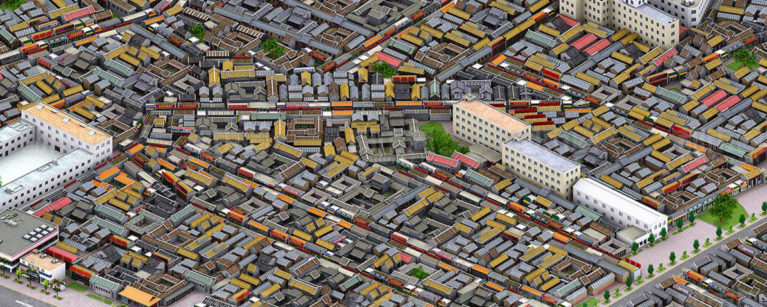 Historical partisans list homogeneity as the primary consideration in urban conservation criteria. Architecture and urban planning, in relation to the human context, is not static, it is always changing and evolving as it grows.
The evolution of construction and destruction will always be the constant change. We aim to produce a compelling contemporary language that embodies the truth of urban heterogeneity. Specific factors influence whether a city successfully inhabits diversity, and these can predict what makes a city stand out from others that do not.
Variety and Order
An extreme interpretation of urban character can put the city in dire shape. Too much chaos can promote turmoil and disorientation. Too much order, on the other hand, leaves the metropolis monotonous, dull and boring.
A perfect exemplification of urban diversity, therefore, is the balance between variety and order. To counter boringness of typologies that are uniformly built, specific design parameters like colour and façade can be modified while keeping others in harmony.
Vitality
Certain cities have that certain charm and appeal that can never be understated. This alluring city draws on other essential criteria on urban diversity – visible life.
Social cohesion is what glues the city together. Human beings need to connect with one another. This interaction can only be achieved if they have a particular spatial condition within the urban fabric. Consequently, people will put their personalised touch on this space. Their freedom to express their truth results in a dynamic and economical city. This small-scale collective unit will grow as it reaches the urban scale.
Compact
The American Dream of owning a single-family residence inspired sprawling cities across the globe. Not only did it took up more land than what is needed, but it also fostered isolation and extreme privacy.
Social fabric in a city is cultivated when the urban environment is designed in a compact form. Mixed-use commercial and residential spaces should be centred around a public area. An excellent square or plaza filled with lush green spaces nurtures the socio-environmental aspect of the city.
Orientation and Scale
Architectural landmarks function as orientation cues. Despite these iconic buildings, the city must be in proportion to human scale navigation and not only designed for moving vehicles.
Urban diversity calls for walkable cities. Cities should not be only human scale-friendly, but they also induce healthy practices for the residents and the environment.
Local
Site-specific and embedded culture make a city unique. Urban centres with high tourism rates can attribute this to their distinctive makeup of local context, climate, history, architectural buildings, residents and social traditions.
These elements help us to understand why certain magnetic cities repel or attract. The urban character of a cityscape lies in the heterogeneous mix of socio-economic, environmental and political matters. Often, the most successful and attractive cities are those who promote urban diversity.