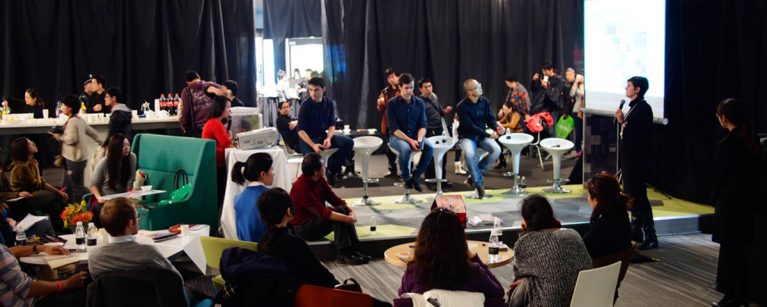 The second edition of the Architects@Work festival, an event showcasing architecture and industry-related products with a special focus on innovation and education, took place in Beijing last December 5th and 6th. AQSO participated both at the 'Spanish design in China' seminar and the conference 'Hutong to Hutopolis'.
Four Spanish firms, offering architecture-related products and services in China participated in the design seminar. Luis Aguirre presented five AQSO projects focusing on the formal creative strategy, as sample catalog of conceptual solutions for approaching projects of different scale. The seminar counted on the presence of Mr. Manuel Valencia, Ambassador of Spain in China. Both Javier Serra, Counsellor for economic and financial affairs, and Montse Salart, an architectural market analyst at ICEX, presented the roundtable.
The next day, publishing house Rizzoli organized a conference on the topic of preservation of Historic Beijing, as a nexus between the last summer #34 issue of the Abitare magazine and the Hutopolis publication to be launch next year. Professor Tu Shang from Tsinghua University and architect QiXin spoke about urban interventions in historical areas. Eugenia Murialdo presented an introductory review of the projects developed during the Hutopolis research program.