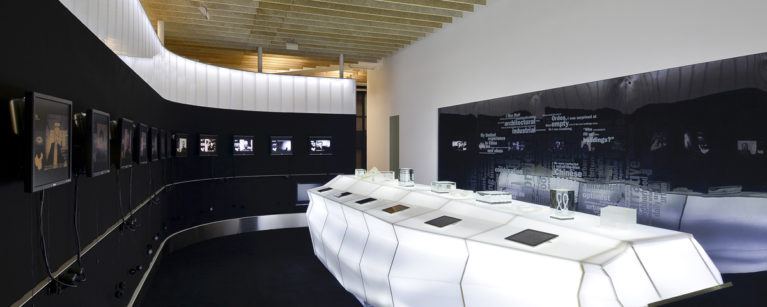 The exhibition (un)made in China, organized by Cannon Design opened last Thursday at the 'Ide@s gallery' in Shanghai. The retrospective features a selection of twelve projects developed by international offices and aims to show not only the value of the architecture itself, moreover the process and the experience of these architects when facing the challenge of working in China.
A series of physical models and ipads placed atop translucent back-lit display furniture signifying the "tip of the iceberg" allow the public to interact with the content of the exhibition. Every project is described from the point of first contact and the commission of the job continuing to anecdotes of the process, wise moves, misunderstandings, trips, meetings, site visits and in short, the particular experience of these foreign architects devoted, out of their context, to satisfy the expectations and dreams of their respective Chinese clients.
Through a series of interviews with the architects, several screens display the documented testimony of their reflections about each project and illustrate from the western point of view the overall conclusion about the singular architectural scenario in China. The exhibition is summed up in a delicate handmade publication containing text and images about the work carried out by the offices. It depicts, like a making-of, the usually unknown part of the changing and hectic internal process of running an architectural project in China.
The selection of projects includes residential, cultural, commercial and public buildings from different scales. AQSO arquitectos office has been the only Spanish studio featured in the exhibition together with American, British and Dutch firms like NADAAA, SPARCH, MVRDV and UNStudio among others.
The exhibition will run until June 20th, and is open from Monday to Saturday, 10:00 to 17:00. After the event closes in Shanghai, the exhibition will travel to other cities.