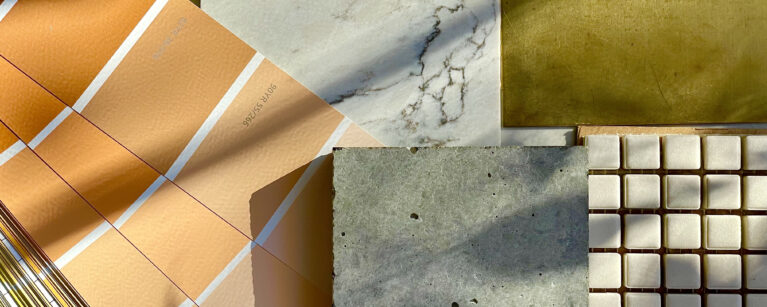 Colours are all around us, and they have a powerful psychological effect on our emotions and behaviours. But what is colour, why do we see it the way we do and how colourful architecture can impact our actions and emotions?
At its most basic level, colour is a type of light with a specific wavelength. Different colours have different wavelengths, and when light waves are combined, we perceive them as different colours. Our eyes contain special cells called cones that are sensitive to different wavelengths of light. These cones allow us to perceive colour by sending signals to the brain when they detect light of a certain wavelength.
The phycological effects of colours
Theorizing on colour and psychological functioning has been present since Goethe, who argue that colours are not simply the result of light waves of different wavelengths, as was believed at the time. Instead, he claimed that colours are the result of an interaction between light and the human eye, and that they are created by the mind.
In 2012 Andrew J. Elliot and Mark A. Maier proposed their colour-in-context theory, explaining that colours can have different meanings and associations depending on the specific context in which they are encountered, and the context in which a colour is seen can significantly influence how it is perceived and interpreted.
Mark D. Fairchild provided in 2012 an in-depth analysis of how the human visual system perceives colour and how this understanding can be applied to colour management and colour communication in various creative fields. One key concept discussed in the study is colour constancy, which refers to the ability of the visual system to recognize the colour of an object despite changes in the spectral characteristics of the light source. The study acknowledges that colour psychology is a complex and multifaceted area of inquiry though.
There are many different factors that can influence how a person perceives and reacts to colour, including their personal experiences, cultural background, and current emotional state. Some researchers have focused on the physiological effects of colour, such as changes in heart rate or brain activity, while others have focused on more subjective measures, such as self-report surveys. This is why while there has been some progress in understanding the psychological effects of colour, there is still much more to learn.
It is important to note that colour can bear meaning in many different ways, and these meanings can come from a variety of sources such as natural phenomena (blue is often associated with the sky and the ocean, while the green is often associated with grass and plants), commercial significance (companies may use specific colours as part of their branding in order to make their products more distinctive and memorable), signals (information warnings to convey important information or instructions) or educational connections (colours can evoke certain feelings and moods in people).
In our particular field, colour is an expressive component in architectural design because it can be used to communicate certain messages, emotions, and associations to the viewer. It can be used to highlight the character of a building and create unity and harmony, or it can be intentionally used to differentiate the building and charge or highlight certain features. Different colours can evoke different emotions and moods, and this can affect the way that people feel when they are in a particular space. For example, the use of calming colours such as blue and green can create a sense of tranquillity, while the use of vibrant colours such as red and yellow can create a sense of energy and excitement.
Colour has both aesthetic and functional value in architecture, and it can also be seen as a true human need. The use of colour can enhance the visual appeal and functionality of a building, and it can also contribute to the overall comfort and well-being of the people who use it by serving various practical purposes such as improving energy efficiency, marking hazards or exits, and providing visual cues for navigation.
Colourful architecture, always
The use of colour in architecture has a long and varied history, with different cultures and time periods having their own distinctive colour palettes and preferences. Colour and mysticism are often closely intertwined, with different colours being associated with different spiritual and mystical concepts and traditions. In many cultures and spiritual traditions, colours are believed to have symbolic and spiritual meanings, and they are often used as a way to communicate with the divine or to access higher states of consciousness.
In ancient cultures such as ancient Egypt and Mesopotamia, bright colours such as red, yellow, and blue were commonly used to decorate temples and other public buildings. These colours were believed to have symbolic and religious significance, and they were often used to depict scenes from mythology and other important stories.
In ancient Greece and Rome, the use of colour in architecture was more restrained, with a preference for white and pale colours that were believed to be more harmonious and noble. This preference for pale colours was partly due to the availability of materials, as the ancient Greeks and Romans did not have access to the range of pigments and dyes that were used in other cultures. However, there were some exceptions to this preference for pale colours, such as the use of bright colours on mosaics and frescoes to depict scenes from mythology and everyday life.
During the Middle Ages, the use of colour was influenced by the Gothic style, which emphasized the use of bright and vibrant colours to highlight the ornate decoration of churches and other public buildings which were often applied to the sculptures, frescoes, and stained-glass windows.
In the modern era, the use of colour in architecture has been influenced by a wide range of factors, including technological innovations, changes in design aesthetics, and the influence of different cultural and historical contexts.
In modern architecture, colour is often used in a way that is consistent with the composition of spaces and shapes, and it is an important element of the overall design of a building. It is used to create visual interest, express emotions, and enhance the functionality of a building, and it is carefully considered as part of the overall design process. This approach to the use of colour is in contrast to the 19th century, when colour was often added to buildings as a decorative element, and it was not always consistent with the composition of shapes and spaces.
In the early 20th century, Germany was at the forefront of the modernist movement in architecture and several members of the avant-garde advanced different scientific and artistic colour theories that had a profound influence on the modern movement.
Polychrome Architecture is a term coined by the Swiss architect Le Corbusier to describe a style of architecture that utilizes a wide range of colours in its design. In his book "Polychromie Architecturale," published in 1920, Le Corbusier argued that colour was an essential element of architecture and that it could be used to create visual interest, express emotions, and enhance the functionality of a building.
Le Corbusier believed that the use of colour in architecture should be guided by scientific principles, and he developed a colour system based on the colours of the spectrum and the psychological effects that they could have on the viewer. He argued that the use of colour should be based on a logical and systematic approach, rather than being based on tradition or whim.
In Mexican architecture, colour is often used as a defining characteristic, and it has a long and rich history that is rooted in its indigenous culture. From vibrant hues to more subtle shades, colour has played an important role in the architecture of Mexico, and it has been used by architects and artists such as Luis Barragán, Ricardo Legorreta or Mathias Goeritz.
Advanced colour management, explained
As we have seen, colour in architecture can be used to create a wide range of different emotional responses in the viewer. From happiness and joy to anxiety and fear, colour has the ability to evoke a wide range of emotions, and it can be a powerful tool for architects and designers.
The lighting in a space can significantly affect the way that colour is perceived, and it is important to consider the intensity and direction of light when choosing colours for a space. The materials used in a space can also affect the way that colour is perceived, depending on the texture, finish, and reflectivity of materials.
The overall design of a space is also important when designing with colour, and it is important to consider the balance, proportion, and rhythm of elements in a space when choosing colours. A cohesive and holistic design approach is essential to ensure that colour is used effectively to generate the intended effect.
There are several techniques and theories to take into account when applying colour to a building or working on the interior design.
Colour constancy is a phenomenon in which the perceived colour of an object remains relatively constant despite changes in the surrounding lighting conditions. This theory, proposed by Akiyoshi Kitaoka, suggests that the brain adjusts the perceived colour of an object based on the surrounding colours and lighting conditions. By understanding how the brain perceives colour, designers can choose colours that will appear consistent and cohesive under a variety of different light sources (such as natural light, incandescent light, and LED light).
Successive colour contrast is a phenomenon in which the perceived colour of an object is affected by the colours that surround it. This can occur when an object is viewed in close proximity to another object with a different colour, or when an object is viewed in an environment with a background colour that is different from the object itself.
When selecting materials for architecture, dispersion, polarization, and scattering can all have an impact on the perceived colours of the materials.
Dispersion occurs when light is refracted, or bent, as it passes through a medium, such as a prism. This can affect the perceived colour of a material by separating white light into its various wavelengths, creating a range of colours. For example, a material with a high refractive index, such as crystal, will disperse light more effectively, resulting in a more vibrant and colourful appearance.
Polarization occurs when light waves are aligned in a specific direction. This can affect the perceived colour of a material by altering the way the light waves are transmitted through the material. A full spectrum polarized lighting has the characteristics or natural daylight and it's also used for interior illumination purposes to reduce eyestrain and fatigue.
Scattering occurs when light is scattered, or dispersed, as it passes through a medium, such as air or water. The perception of materials can be affected by this effect in large interior spaces or wet rooms with high humidity levels.
In architecture, materials are used in a variety of ways to create functional and aesthetically pleasing spaces. Besides their natural appearance, they can also be painted with dyes and pigments to create a desired colour or finish.
Dyes are typically soluble in water and are used to colour fabrics, textiles, and other materials that are capable of absorbing liquids. Pigments, on the other hand, are typically insoluble in water and are used to colour a variety of materials, including wood, plastics, and concrete.
Both natural and synthetic dyes and pigments have colour-bearing molecular structures that give them their specific shades. These structures are typically made up of chemical compounds that absorb certain wavelengths of light and reflect others, resulting in the perceived colour of the dye or pigment.
Natural dyes and pigments are typically derived from plant, animal, or mineral sources and have been used for centuries to colour a variety of materials. Some examples of natural dyes and pigments include indigo (derived from the indigo plant), carmine (derived from cochineal insects), and ochre (derived from iron oxide minerals).
Synthetic dyes and pigments, on the other hand, are typically created through chemical processes and have a wider range of colours and hues than natural dyes and pigments. Some examples of synthetic dyes and pigments include aniline dyes (derived from coal tar) and titanium dioxide (a white pigment commonly used in paint).
In recent years, there has been an increased focus on using a more scientific approach to colour selection in architecture and interior design. One tool that is commonly used in this process is a spectrophotometer, which is a device that measures the spectral content of light to accurately determine the colours and hues of materials and surfaces. By using spectrophotometers, designers are able to more accurately and consistently apply colour theories and create cohesive and harmonious colour palettes.
In the process of selecting a colour, it is also important to have elements to define and qualify it. Colour theory is based on the colour wheel, which is a visual representation of the primary, secondary, and tertiary colours. The primary colours (red, yellow, and blue) are the fundamental colours that cannot be created by mixing other colours. The secondary colours (orange, green, and purple) are created by mixing two primary colours, while the tertiary colours (yellow-green, red-orange, etc.) are created by mixing a primary and a secondary colour.
Hue refers to the specific colour of an object, such as red, yellow, or blue. It is typically used to describe the position of a colour on the colour wheel. A tint is a colour that is created by adding white to a hue, making it lighter and softer than the original hue. A tone is a colour that is created by adding grey to a hue, making it more muted and subdued than the original hue, while a shade is a colour that is created by adding black to a hue, making it darker and more saturated than the original hue. These concepts are important in colour theory, as they are used to describe and manipulate the various qualities of colour to create colour schemes and palettes.
The most commonly used colour schemes in design and art are monochromatic (using different shades and tones of a single hue), complementary (using two colours that are opposite on the colour wheel), triadic (using three colours that are equally spaced around the wheel to create a balanced look) or analogous (using colours that are next to each other) among others.
The 60-30-10 rule is a guideline used in interior design to create cohesive and balanced colour palettes. According to this rule, a colour palette should consist of 60% of a dominant colour, 30% of a secondary colour, and 10% of an accent colour.
The dominant colour is typically used for the largest elements in a space, such as the walls or floor, and serves as the foundation of the colour palette; the secondary colour is used for smaller elements, such as furniture or accessories, and helps to balance the overall palette, while the accent colour is used sparingly and is used to add pops of colour and visual interest to the space.
In architecture and interior design, colour spaces (systems used to organize and represent colours in a standardized way) are used to communicate and coordinate colour choices between designers, suppliers, and builders. By using a standardized colour space, architects are able to accurately and consistently specify the colours and hues of materials and surfaces, which helps to ensure that the final project is consistent with the original design intent.
Examples of colour spaces commonly used in architecture include RGB, based on colours of light, CMYK, a subtractive system used in printed media, Pantone, a standardized commercial system or RAL, a standardized colour matching list commonly used for paint, powder coatings and plastics.
The use of colour in architecture is an important consideration, as it can significantly influence the overall aesthetics and functionality of a space. By understanding the psychological effects of colour and applying a more scientific approach to colour selection, architects and designers can create spaces that are coherent and balanced, visually appealing and functional.
Architects are equipped to meet the challenges of colour selection in a project because of our artistic and technical skills. We have a thorough understanding of the principles of colour theory and know how to apply them to create visual interest and impact in a space. Our experience working with a variety of materials and surfaces, along with the use of computer visualisation tools, allows us to test colours in different environments and lighting conditions.
On the other hand, our experience in managing the construction process means we understand the challenges and complexities involved in bringing a design to life, so we are able to coordinate effectively with builders, contractors and suppliers to ensure that the end result is consistent with the original design intent.