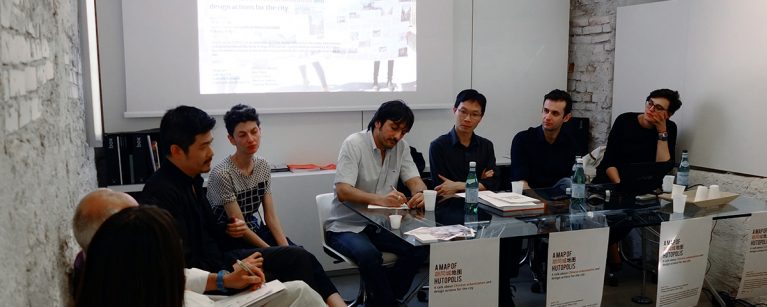 AQSO is pleased to announce the publication of the book 'A Map of Hutopolis', a monograph comprising the projects developed during the Hutopolis research program and a series of articles written by researchers and professors on the topic of Chinese urbanisation.
On the occasion of the book launch, a series of lectures taking place in Europe, Asia and America have been organised by the Hutopolis team. The first one was celebrated in Milan last Friday during the design week. During the event, Italian journalist Gabriele Battaglia and associate professor of History at the University of Toronto Tong Lam lectured the audience about the latest Chinese policies on urban planning. Tong Lam showed in his presentation a case study to understand the ability of people to adapt to the environment, the "urban village" of Guangzhou, a city in South China.
Beatrice Leanza (creative director of Beijing Design Week) and Aric Chen (curator of design and architecture at the M+ in Hong Kong) participated in a panel discussion together with Prof. Luisa Collina and Prof. Gianpiero Bosoni (Politecnico di Milano).
The publication 'A map of Hutopolis' is understood as a collage of interconnected ideas, projects and articles. The result is actually a big map, cut up into pages, so the reader must navigate through the content following a conventional cartographic system. The book represents with this logic the particular diversity and complexity of the showcased urban systems.
The publication has been designed by Dutch agency LAVA and the first edition has been published by Abitare China. A copy of the book was included in the #36 issue of the magazine.