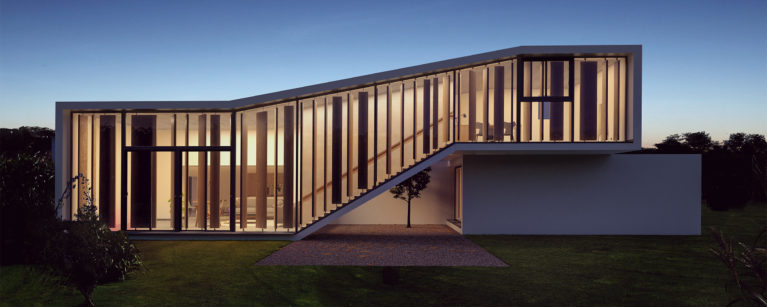 The idea of creating an inner space open to the sky blends a haven of nature and architecture. We understand the need to immerse deeply in a natural environment while being protected at your shelter and in fact, we have rediscovered the beauty and functionality of this typology in numerous projects.
Architecturally, courtyard acts as a focal point in the buildings. The play of natural and artificial light can be utilised to accentuate elements. Courtyard provides a fresh and unique setting from the formal architectural context. It complements the rigid forms of buildings with its soft, natural features.
The courtyard also promotes the use of passive design environmental strategies regarding natural light and ventilation. When analysing the site initially, the direction of prevailing winds and daylight should be identified. Courtyard should then be allocated appropriately to maximise its potential in energy-efficiency.
This open space can also serve as a cultural and lifestyle element due to its layout arrangement. It connects or separates public and private areas. This introvert space is typically restricted to the household for the full enjoyment of their privacy. The intimate enclosure of the inner court gives the users an opportunity to improve their holistic well-being. A space for meditation and reflection, being one with nature revitalises one's healthy state.
Other benefits of this typology include climate modification. Functional and aesthetical, courts can be enhanced with suitable vegetation and water features. Fountains provide an oasis from hot and humid temperatures since water transpires with air and they are compatible with contemporary languages. Shrubs and trees also bring comfort to the users because of their natural cooling effects. Courtyard produces an aura of openness and transparency.
We have taken inspiration from the rich history of this typology across the world.
Our closest reference to this arrangement is the Mediterranean Domus. During the Republican and Imperial eras, effluent Romans live in an atrium house known as Roman Domus. More than a dwelling for the family, Roman Domus is also a place for business and sociopolitical matters. The atrium, where guests are entertained, was lavished with decorative paintings, sculptures, artworks and fountains. It was also open from the ground up to the sky and has a slanted open roof configuration ready to receive rainwater.
Another fascinating interpretation of the courtyard house is the Arab Riad. This three to four-storey traditional Moroccan house encloses an interior garden called riad. All four to six rooms of the house open to an elegant central courtyard containing fountains and wellness facilities.
Surprisingly, the same typology is typical in China as well. Chinese Siheyuan is a quadrangle enclosed with symmetrical four houses on all sides. The courtyard is the nucleus centred around the hierarchical system of the inward-facing dwellings. Siheyuan represents the Chinese culture of introversion, privacy and tranquil union with the family. The courtyard is also adorned with landscaped gardens, fish pond and wood carvings reminiscent of its rich culture.
Taking a glimpse from the past, we have transformed these traditional arrangements into our own contemporary interpretation, from single-family houses to housing projects. The functionality of this conventional layout works at different scales and contexts.