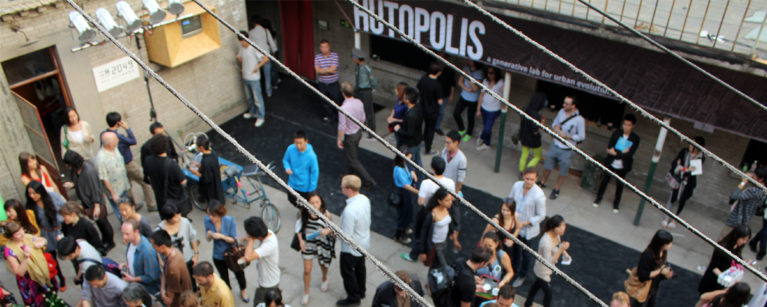 Beijing Design Week is scheduled to be an annual event composed of several sections: a design forum, design exhibitions, workshops, a guest city program, design hops and an annual design award.
'Next stop: Hutopolis' is a retrospective on the urban condition of Beijing and specifically its Hutongs.
The exhibition opened doors last Saturday 24th during the opening ceremony of the Dashilan Design Hop and will remain open to the public until October 3rd.
Imagined as an exploration in three chapters on the urban fabric of the old Beijing, the exhibition wants to establish a relationship with the visitors engaging in a dialogue. The discourse starts from a general picture of the old city, continues with a scientific breakdown into four principles and concludes with a virtual re-composition of an ideal image of the metropolis.
A series of boards and a three-dimensional diagram raise questions about the facts defining the contrasts between the current Chinese urban models. The French filmmaker Sylvie Guérard and the Serbian artist Anouchka van Driel present several movies and graphic material to illustrate the domestic way of living in the Hutongs, while the Russian company Media Constructions has developed a touch-screen application for the public to interact with an interactive map.
The exhibition, organised by AQSO, has been sponsored by the Guangan holding group and counts with the collaboration of NLGX design stores and the Raffles design Institute in Beijing.