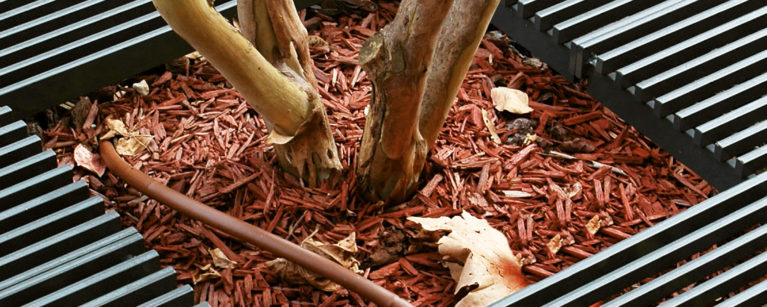 The integration of nature and architecture has proven to be extremely vital in preserving the ecological system and improving the quality of life of its occupants. A symbiotic relationship between the two entails landscape designers and architects to design with nature's evolving patterns.
As trees and the surrounding environment are continually changing and growing, landscape architecture and building forms should adapt accordingly with each other to provide a multi-dimensional physicality and experience.
As we craft a careful design suited to meet the client's needs, we also complement it by matching the site's contextual variables to enhance friendly occupant-nature relationships. We collaborate with qualified landscape professionals to develop tailored key criteria for vegetation species suitable for the landscape design. This selection process responds mainly to the following criteria.
Soil Adaptability
Soil compaction is vital to the tree's survival, growth and health. A higher degree of compaction requires native and indigenous tree species that adapt to the soil's low oxygen levels. pH levels, the degree of alkalinity and acidity, should also be determined as specific tree species can only thrive in a particular range. Most vegetation prefers a slightly moist acidic soil (pH of 6 to 7) rather than dry alkaline soil as common nutrients of potassium, magnesium, calcium and nitrogen readily diffuse in that environment.
Shade
Other factors to consider are the microclimate setting and biogeographic realm of the species, since all the vegetation as a whole form a system in equilibrium. Large-maturing trees require six hours of direct sunlight whereas the shade-tolerant species would need three hours. Wide-crowned trees often provide sun protection and natural cooling effect since water combines with air through transpiration.
Deciduous Vs. Evergreen
Deciduous trees like oak, maple and elm usually shed off their foliage in the fall and grow them back in the spring where they offer at their crown a full-grown shade coverage of 30 m in height. Evergreen or coniferous trees like cider gum and pines keep their cone-shaped foliage all-year round and serve as excellent windbreakers and privacy screens.
For gardening, most evergreens are low-maintenance on upkeep as they require lesser pruning and trimming. They are also more tolerant of harsher conditions such as poor soil drainage and infestation. Pruning deciduous trees to eliminate damaged wood and restore it to a healthy state requires knowledge on when to make a heading cut or thinning cut.
Root Distribution
Determining the breadth and depth of the roots while considering the soil classification system is critical to the tree selection suitable for landscape design. Utilities laid below-ground or foundation should be traced before planting as different tree roots react peculiarly to site-specific variables.
Disease Management
Ecosystems are connected, and to prevent decline, disease-prone trees like emerald ash borer should be avoided, and treatment for affected trees must be executed. Often susceptible to wind breakage and fungus infections, infected trees can create safety nuisance and health hazards and are not recommended for planting at all costs.
We augment all these factors into the aesthetic and functional principles of landscape design to achieve an optimal and balanced integration of architecture and nature.