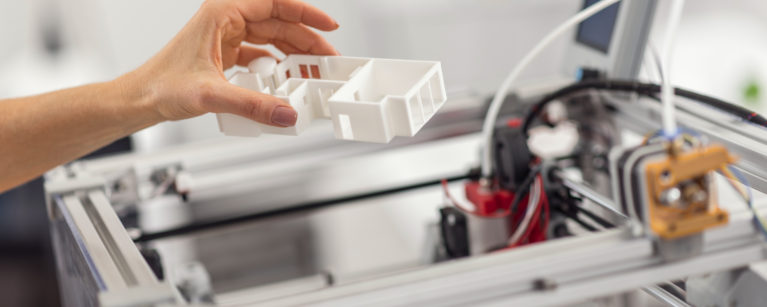 Architecture starts with an idea. It is the communication of a vision into a concrete form. Translating this concept into 2D visual presentations has always been the norm. With the advent of 3D printing, the interpretation of an idea into a tangible physical model is now garnering attention.
When visual learning is combined with a tactile experience, complex ideas are simplified.
Building a scale model through hands is a time-consuming task but necessary to represent a final design. Through 3D printing, efficiency is at its finest. From pre-design to detailed design phase, faster iterative processes are achieved.
Concept Design
Pre-design stage usually includes feasibility studies, site analysis, zoning code, land use regulations and space requirements. 3D printing plays a role in this stage by producing massing volumes of the schematic designs.
Physical simulations of diverse forms provide architects with the freedom to analyse the functional relationships from small to bigger scale. These design considerations are continuously investigated and given feedback until there is a concept that stands out.
Developed Design
In this stage, testing ideas is of utmost priority. It is the last opportunity for the client and architect to resolve critical issues before delving into the detailed design phase. From the chosen design concept, details that were previously misconstrued are now being refined and validated.
The physical 3D models enhance the efficient communication between the architect and the client. Different prototypes and layouts are tested and printed to provide options for the client. Since the physical model is connected to the digital 3D model, real-time changes are easily updated when printed.
Detailed Design
From massing studies to idea testing, the 3D model now moves from experimentation to clear-cut definition in this stage. Detailed design finalises the material specification, construction details and mock-ups needed by the contractor for tendering. Also, the 3D presentation model acts as a marketing tool for the property developer.
Several 3D printing techniques have flooded the market. Merging this technology with advanced 3D modelling skills, we can produce efficient models using a vast range of materials.
Plastic
Fused Deposition Modelling (FDM) technology heats and extrudes thermoplastic-based materials from a nozzle onto a base platform. Alternatively, Selective Laser Sintering (SLS) creates rough-surfaced plastic models using powder bed fusion and laser power source.
Resin
Digital Light Processing (DLP) uses light bulbs such as arc lamps to cure the photopolymer resin. Although there are limits on thickness and material, it can produce high-precision complex models.
Metal
Electron Beam Melting (EBM) prints 3D models by using an electron beam that fuses and melts metallic powder in 100% state. The power source is vacuum-controlled; caution is to be observed as this technology deals with x-ray.
Communication is critical for success. We break down complex designs to simple through 3D printing.