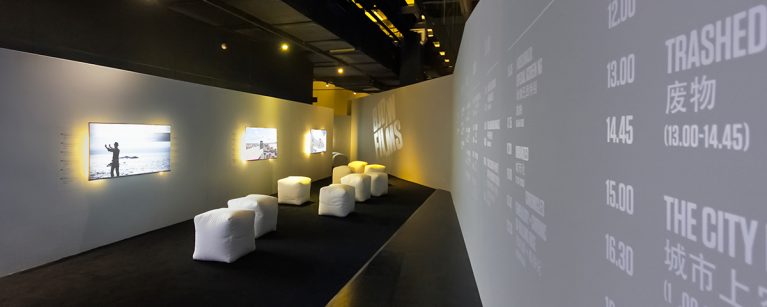 AQSO participated at LAMIPA, an audiovisual exhibition about Spanish and Portuguese architecture which opening took place in Beijing on September 25.
LAMIPA is an exchange platform displaying documentaries about contemporary architecture that also organizes special talks where architects show their works.
The exhibition in Beijing was part of the main section of the Design Week, together with the new BJDW Film Festival, and it counted with the support of the Spanish and Portuguese embassies in China. The content included a selection of 70 short movies, 35 from Spanish architects and 35 from Portuguese.
AQSO collaborated with the organization designing the exhibition, located in the Orange multifunctional building of Taikoo Li Sanlitun, venue also for the lectures.
The conference series included teams such as CML / Projeto Alvenaria (Bruno Silvestre + Alexandre Dias + Luís Spranger), AQSO arquitectos office, Burgos & Garrido, Souto de Moura, Proap and OAB / Ferrater. The event was inaugurated by Jorge Torres-Pereira, Ambassador of Portugal in China and María Salcedo, Cultural Counsellor of the Spanish Embassy in China. The Spanish Ambassador, Manuel Valencia, visited the exhibition as well and he met some of the participants.
LAMIPA (International Exhibition for Contemporary Architectural Heritage) is a project curated by Alejandro Trinchant, who has led this initiative for over a decade. The project took a Spanish-Portuguese character and a new International approach at the last Lisbon Architecture Triennale, where the new website was launched and all documentaries included in the platform database were released to the public.