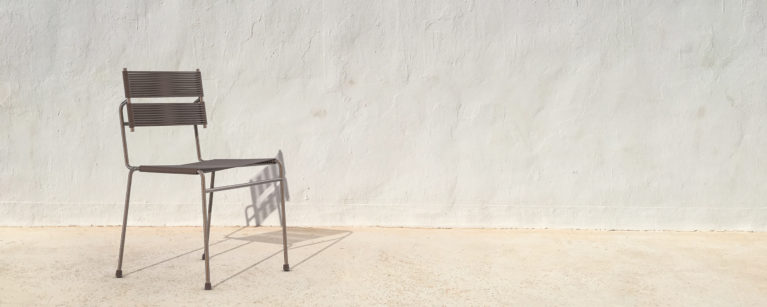 On the last few months, we have been working on an exciting outdoor furniture project: the Carola Collection, a minimalist and simple furniture design inspired by the bright colours of the sunny Mediterranean regions.
Taking the simplicity and avant-garde design of the Spanish Torre Carola villa as a reference and the materials of the Mexican Acapulco chair from the 1950s and '60s, the series brings to this iconic mix of steel and vinyl a more rational form and a modern look.
With this distinctive language in mind, we have designed a range of products including chairs, armchairs, lounges, stools and tables of different heights. The skeleton of the chairs is made or straight and bent steel bars, providing four supporting legs strategically placed to make them stackable. The cords forming the seat and the back are interwoven between the bars so the whole surface can be done with one single string.
In addition to the welded and powder-coated steel bars used for the structural framework and the flexible rubberised thermoplastic PVC cords, the tables include solid phenolic resin compact laminate panels for the tops.
The collection provides a gamut of models adequate for every social occasion. The dining table, combining for size and function with the chair and armchair models, represents the classic set for restaurants and terraces, but its possibilities are almost limitless.
The series is presented in four different themes (Agua, Terra, Fresco and Graffito), combining a selection of metal and rubber contrasting finishes. So, an Armchair from the Agua theme might have a white frame and azure cords to display the colours of sandy beaches and sea waters, while a model from the Terra theme might come in a coppery appearance metal with military green rubber to symbolise the tones of the tanned Mediterranean land and its thriving vegetation.
The Carola Collection is made of lightweight, comfortable, and durable pieces of furniture. They are ideal for outdoor solutions, since they are weather resistant and easily movable or stackable, even though the design's sleek and everyday style proves to be an excellent fit for sober interiors as well.